Monash Medicine in review – Admission experience
‹ Previous: Overview of Monash Medicine
As described previously, there are both undergraduate and graduate entry pathways into Monash medicine. As a domestic (interstate) undergraduate-entry student, that is what I'll be focusing on here. Note also that I applied in 2017, and while I have endeavoured to update information to reflect current details, accuracy is not guaranteed.
Undergraduate entry into Monash medicine is open to students after completing year 12 (potentially with a gap year), and before commencing any tertiary studies.
The year before commencing medicine, you would have sat the University Clinical Aptitude Test (UCAT), typically in July.1 You would then apply through the Victorian Tertiary Admissions Centre (VTAC), listing the Monash University BMedSc/MD as one of your course preferences – in 2020, applications were open from August to September.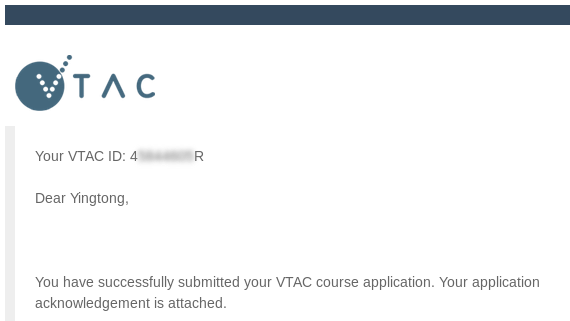 Once year 12 results are released in December (or, for IB, January), offers for interviews are made by email, based on a combination of ATAR and UCAT results.

Interviews are typically held at the South 1 Lecture Theatre, at 43 Rainforest Walk, just off the bus interchange.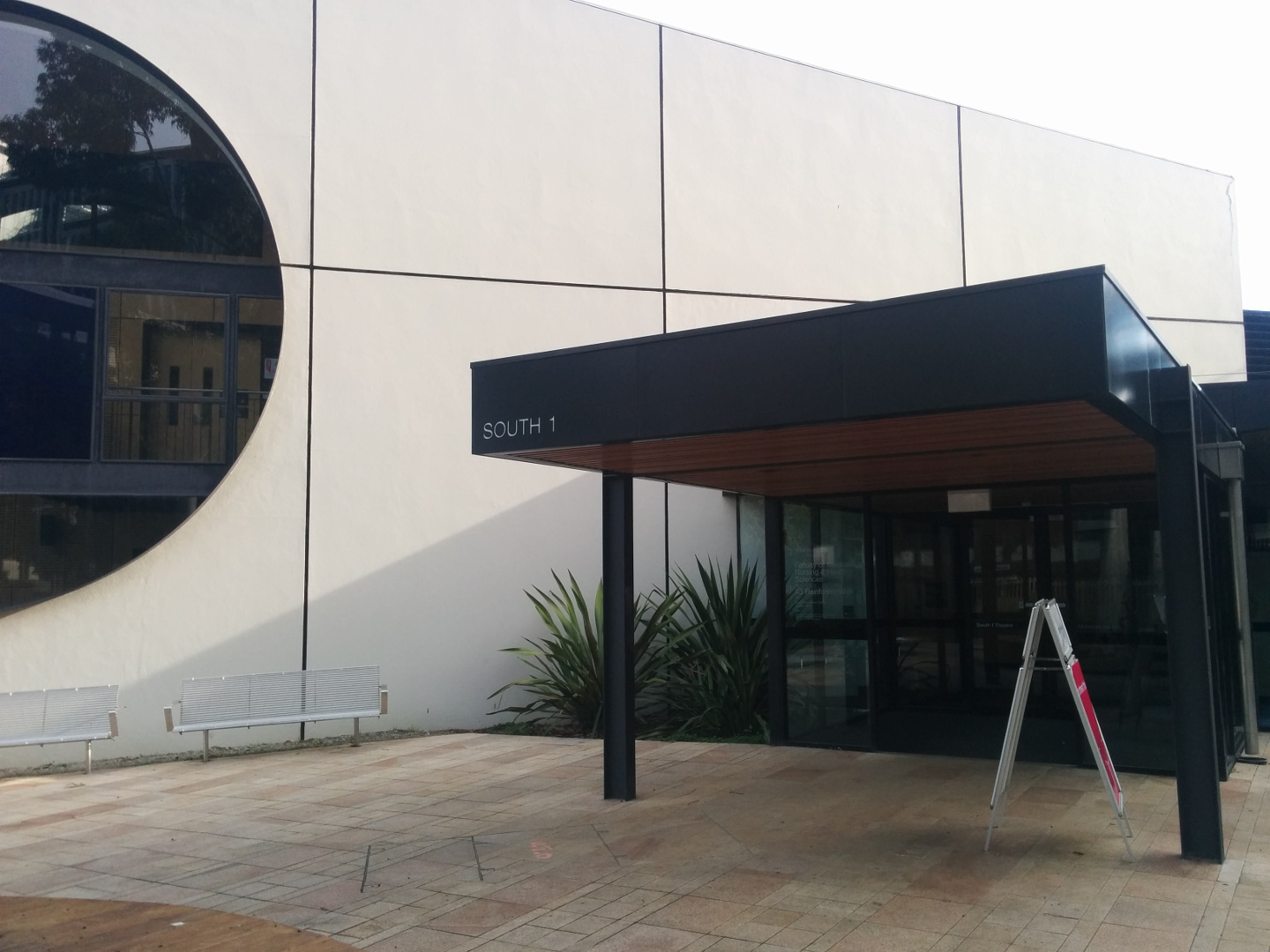 Some general administration follows, including the picking up of name tags and lanyards distributed by current student volunteers, and the viewing of a short video explaining the interview process.
Some interviews are conducted at the main medicine teaching building at 27 Rainforest Walk, where most tutorials and practicals are held during the year within the course:2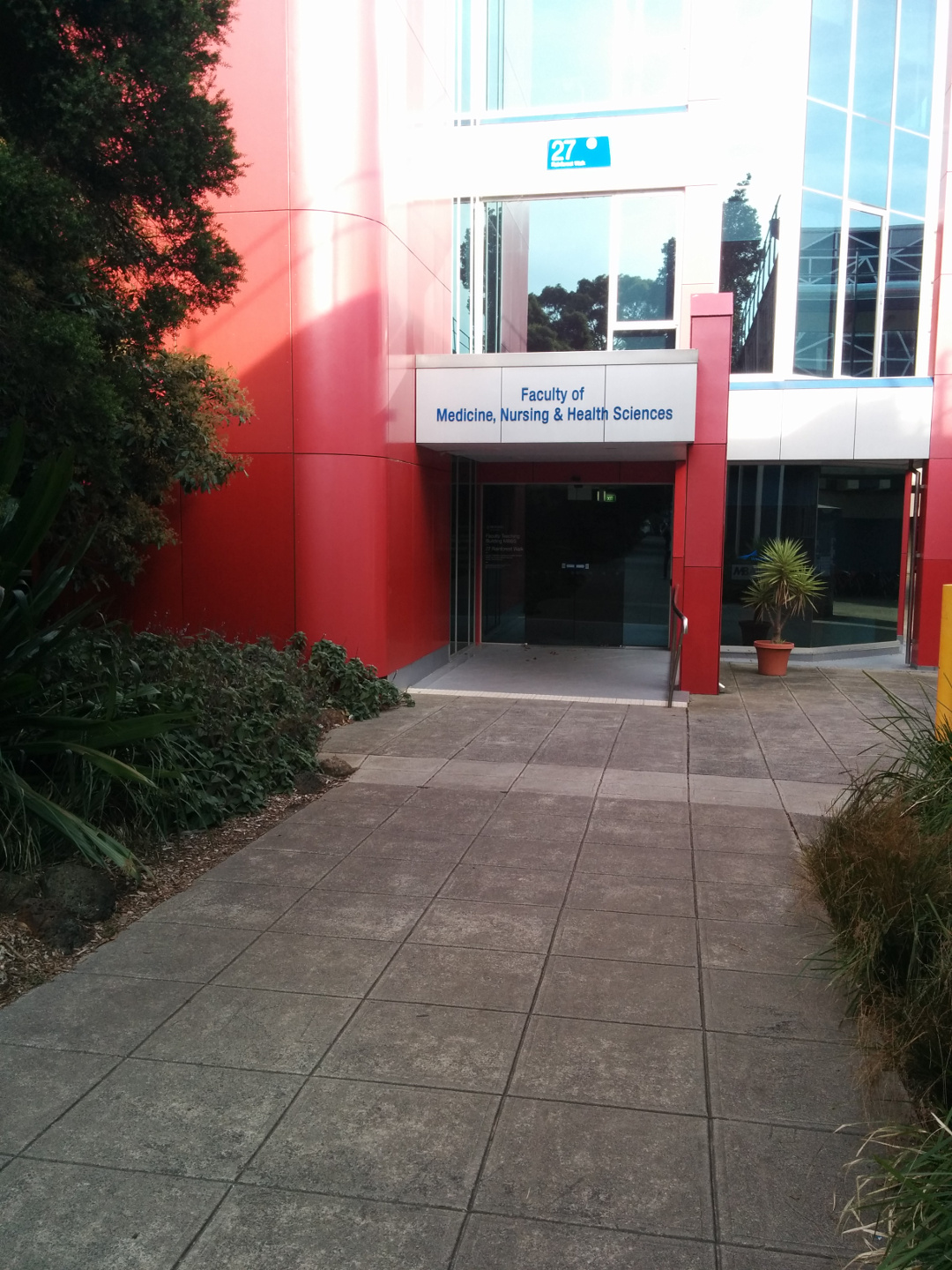 Other interviews may be conducted at other sites around campus.3
Medicine interviews at Monash are of the multiple mini interview (MMI) format. There are 8 separate stations, of 10 minutes duration each. Each candidate in a group of 8 starts at one station, then rotates through the rest of the stations until every candidate has completed every station.
For example, if your interview is on the first floor of 27 Rainforest Walk, the doors to 8 of the tutorial rooms on that floor are numbered in sequence, and on each door is stuck an upside-down manilla folder. Each candidate starts standing with their back to one of the doors.
When the first bell rings, you turn around and open the folder, revealing a flimsy plastic sheet protector containing a paper printout marked with Monash branding and 'CONFIDENTIAL' in Cambria. The paper contains a short passage, which raises some obvious points of discussion.
When the bell rings a second time, you enter the room, where there is generally one examiner. They begin with an open question about your thoughts on the stimulus, followed by a handful of specific questions, and the obligatory 'Anything else to add?' to finish up – marking your responses with an iPad. Once you're done with the station, you make awkward small talk, until the bell rings again, signalling time to move to the next station.
After the circuit of 8 stations, you will be led to yet another venue and, assuming you weren't sequestered before the circuit, wait around for an hour or two while other groups complete their circuits.
If all goes well, on offer day, Monash University will make you an offer via email and text message: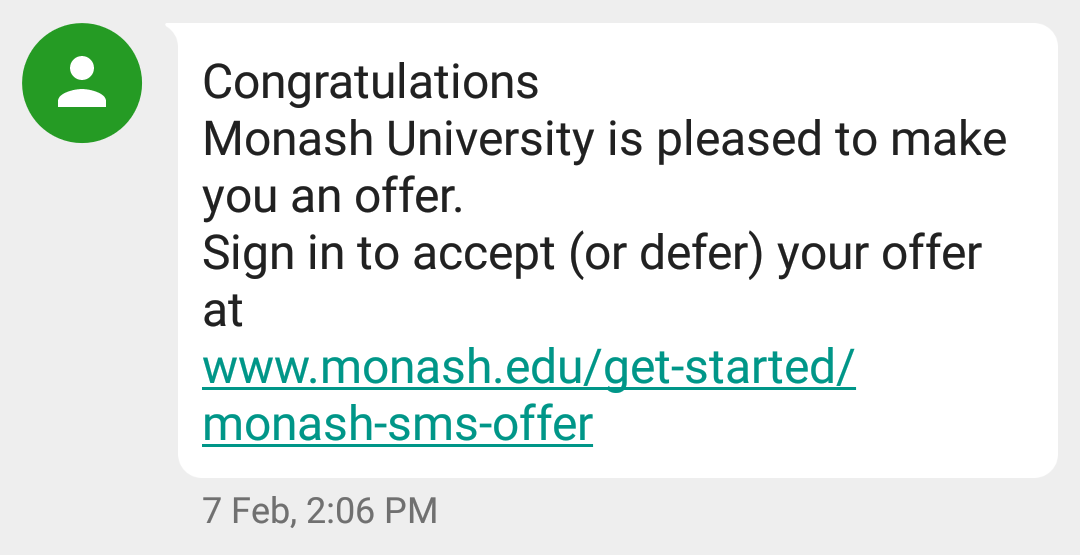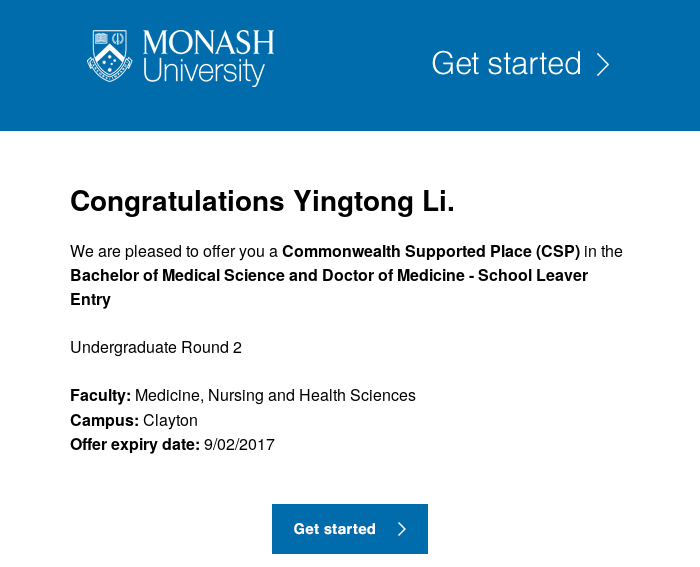 You accept the offer through Monash University's ageing student services platform, the Web Enrolment System (WES), and get ready for the year.
This post revises and updates an old post of mine from 2017. For an account that was a little more contemporaneous, and a little more cringe, click here.
Footnotes
The undergraduate medicine admissions test used to be known as the UMAT. As I applied in UMAT times, some of my screenshots will make reference to this. ↩

The day before my interview, I had a gander around the campus, and noticed a 'good luck to interview candidates' sign inside the building, which was a bit of a tip off! ↩

At the time I interviewed, some interviews were conducted at the Glasgow tutorial rooms – however, these have since been decommissioned! ↩